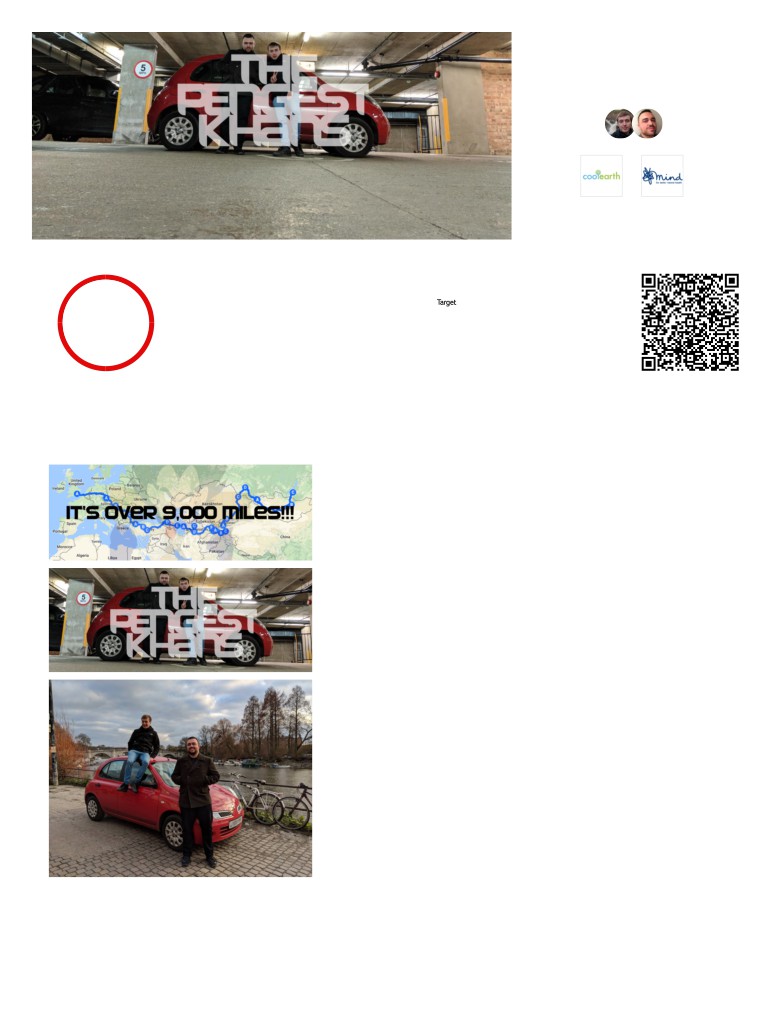 Total plus Gift Aid: £3,367.50
Connor and Sami start the Mongol Rally in July 2018. Driving over 9,000 miles in a
Nissan Micra from London to Ulan Ude to raise money for charities Mind & Cool Earth.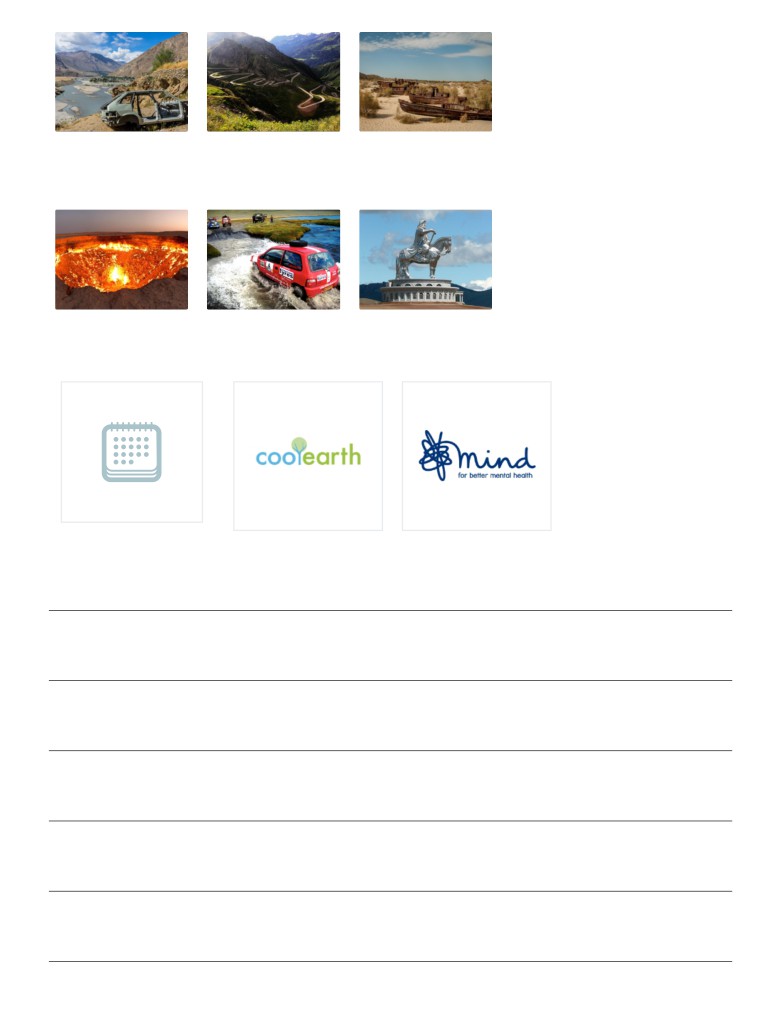 Good luck for the rest of the trip!
Enjoy Sami!! Well done what an experience and for a great cause!
Stay safe guys and hope you have an amazing time!!
Good luck guys, have an amazing time and stay safe. Go for it! Mello xxx Bon voyage! Evites la Syrie et l'Afghanistan si possible...
Good luck and don't do anything I wouldn't err... Never mind haha See you when
Enjoy your trip!!! Proftez bien, ca va etre incroyable! J'adore l'idee de la Micra!! Amusez
vous bien et proftez de cette belle experience de vie! Aurelie (From France) Team Ocean wishes you all the best, as does Stephen Cleary. Have fun and enjoy the
experience! Stay safe and look forward to hearing all about it in September.
Don't forget your baking trays! Good luck!
bring back something nice!
From the pengest Kahn to The Pengest Khan's, good luck boys!
I wish I could come with you and be part of the adventure!
Good luck guys and if in doubt or danger, remember to do what all millenials do and Fair suck of the sav, gotta pay for holidays innit
Good luck lads. Say hello to Genghis
You know that you are tracing the Ancient Chinese Silk Road along which camels
transported silk from China to Europe!! Anyways so much for boring historical fact and
BEST OF LUCK IN YOUR ADVENTURE!!!
Hey Buddy, hope you have an amazing trip. Very jealous of some of the places you are
visiting, so I expect to see lots of photos and not just of Nando's in diferent countries!
Enjoy the trip of a life time!
Good luck gentleman!!! I am sure it will be a great experience. In a Nissan micra, really ???!! what an adventure... ENJOY !
Good luck you crazy man! Try and come back safely!
Madness !! Best of Luck hope it goes smoothly...
Wish I had more to give you mate! Well done on raising so much already and doing
such an amazing adventure. Jealous. x
Hi Connor, wishing you a great adventure. Don't worry I will keep an eye on your mum
to make sure she doesn't get too anxious! Carole
This looks incredible, good luck fellas!
"Roads? Where we're going we don't need... roads!" Doc, Back to the Future
Good luck. Especially as It's not clear how you are getting back Sami. Or, what a
second hand Micra (with 9000 on the clock) is worth, in Mongolia. Enjoy the Yaks! PJ I pity anyone who has to put up with you in a car for such an extended period of time
Enjoy the ride, bring camera.
So jealous of this but wishing you guys good luck with the journey! Looking forward to Wow - looks really fun. Hope you have a great time!
Bonne chance Connar, mon amour 8--
I envy you - good luck guys
All the best con_no . Drive safe
A great adventure - safe travels!
Good excuse to do your hairlines in Turkey on the way! Nice one
Good luck m8! Don't take any Yorkshire Tea we know that didn't bring any much luck
last time! Nice choice of charities btw
good luck lads looking forward to the pictures and videos

I hope the car in the photo that's been taken for a joyride and then torched isn't your
Nissan Micra? As the mafa boss in the Italian Job says, "Well gentlemen...it's a long
walk back to England...and it's that way"
Still a big fan of The Pengest Ghengis, but wish you guys luck on your adventure. Both
YOU KHAN DO IT! Best of luck lads - enjoy the experience.
I'll give within my means. Best of luck to you both and Godspeed.
Good Luck to the intrepid duo. Remember I expect lots of texts and photo's. Very
proud (if not a little anxious)
Well done boys. Good luck
Enjoy and wish you the both the best!
Good luck bro :D Hope you'll have a great adventure . Don't focus on the destination,
pay attention to the wild stuf along the way.
Sounds like a great challenge! Plz document (Snapchat or something would be good)
and share would b very cool good luck bro
Good luck both! I forgive you Sami for missing my graduation for this! xx
Good luck ! Loving the micra xxx